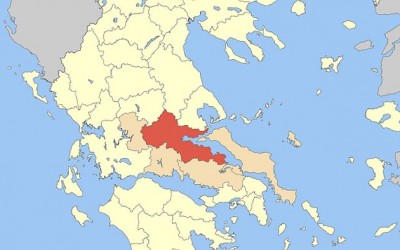 Phthiotis (Greek: Φθιώτιδα, Fthiótida, [fθiˈotiða]; ancient Greek and Katharevousa: Φθιώτις) is one of the regional units of Greece. It is part of the administrative region of Central Greece. The capital is the city of Lamia. It is bordered by the Malian Gulf to the east, Boeotia in the south, Phocis in the south, Aetolia-Acarnania in the southwest, Evrytania in the west, Karditsa regional unit in the north, Larissa regional unit in the north, and Magnesia in the northeast. The name dates back to ancient times. It is best known as the home of Achilles.
Phthiotis was a region of ancient Greece that covered the northern part of the present regional unit Phthiotis and the southern part of present Magnesia. The southeastern part of present Phthiotis was covered by the ancient region Locris, and the southwestern part was ancient Malis and Ainis.
The Spercheios valley was flooded in March 2005.